Celebrate Snug Harbor Couples Tribute: Valira and Mark
Hosting your special day at Celebrate at Snug Harbor on Staten Island, our premier wedding venue located at Snug Harbor Cultural Center and Botanical Gardens. This lush 83-acre property boasts several gardens and two grand event spaces for a reception. Wherever your wedding takes you, our event managers will create a unique celebration that reflects your vision.
Valira and Mark were married on October 17th, 2020 in a garden micro wedding celebration at Celebrate Snug Harbor. It was a very romantic, memorable day for all.
Why did you choose Celebrate Snug Harbor for your Wedding Day?
I fell in love with the Tuscan Garden the moment I saw it. I had never thought of where I wanted my wedding to be or what I wanted it to look like, but the moment I walked in the gate, I knew I wanted to have our wedding at Celebrate Snug Harbor. We loved how close to home Celebrate Snug Harbor was for us. It would be easy for us to go back and visit whenever we wanted to remember our wedding day. It made sense for us to choose Celebrate Snug Harbor as our wedding venue so that traveling was made simple for family and friends.
Where on the grounds of Snug Harbor did your wedding take place?
Our ceremony was held in the breathtaking Tuscan Garden and officiated by my older cousin Dave's wife who is a minister at our church. The Great Hall is where we held our extended cocktail reception.
Did you have a wedding planner or any DIY elements?
A few DIY's were sprinkled throughout our wedding, like our wedding signs, including our welcome sign, the directional sign outside the Great Hall pointing guests to the reception, and table signs for drinks, cards & gifts, and the guestbook. I had the signs printed on unfinished canvas for a delicate look and cut each one into a pennant shape for added elegance and interest. At our welcome table, we displayed escort cards that corresponded with the seating chart that was also assembled by me. It was important for me to have each of my guests have something tangible that made them feel welcome besides a wedding favor.
What was your 1st Dance Song?
We walked in to our reception to the song "Trophy" by Future feat. Kanye. That's all it was supposed to be though…we were supposed to be announced as the newlyweds and walk to our sweetheart table to the song. Instead, all our guests gathered around us and the DJ started hyping the crowd. We were on the spot and center of attention but in the best way possible. We still slow danced to the song "Nobody" by Brian McKnight after that.
Advice for future celebrate couples?
"The most important thing for us was to stay true to who we are. I had never attended a wedding and Mark had only attended one or two before ours so we had little to go off of as far as experience. This helped us focus on what we wanted our special day to feel like and what was important to include or not."
"We knew having a videographer and photographer were top priorities as we wanted a great photo album and wedding video to share with our children one day. Another important feature of our curated wedding were all the young, black vendors we hired, including our photographers, videographers, dj, and strings player. Having black representation on our special day was another secret ingredient to the overall vibe. Due to the pandemic, we had to switch gears and have a micro wedding of 40 guests instead of the 110 guests we initially projected, but it was a blessing in disguise. Our micro wedding was so intimate, cozy, and fun! We were truly able to celebrate with everyone there."
We are so lucky to have delightful couples like Valira and Mark to work with at Celebrate Snug Harbor. A special thank you to ODHO Productions who was on hand to capture every moment of this special wedding.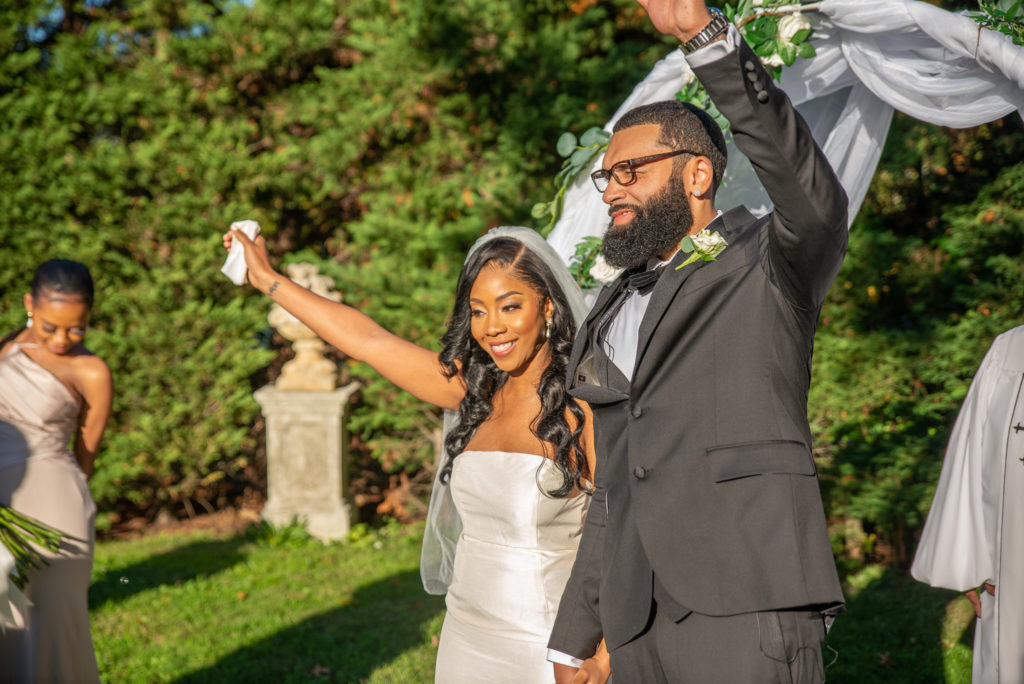 Vendors:
Wedding dress: Asos Bridal
Florist: Flowers by Bernard email: flowersbybernard@aol.com instagram: @flowersbybernard
Cake: Alfonso's Pastry Shoppe email: alfonsosvictory@gmail.com instagram: @alfonsosvictory
Invitations: etsy.com Pipkin Paper Company
DJ: DJ Smoovem @iamdjsmoove Smoove Sound Entertainment
Violinist: Priya DeBerry email: priya.deberry95@gmail.com
Photographer: Odho Productions www.odhoproductions.com instagram: @odhoproductions
Videographer: Picture Paradise www.mypictureparadise.com
bridesmaids dresses: White by Vera Wang
Grooms tux: custom tailored
Groomsmen attire: Black by Vera Wang
Hair: Tyra's Hair Experience email: tyrashairexperience@gmail.com instagram: @tyrashairexperience
Makeup: Bdash Artistry Email: info@bdashmakeup.com instagram: @bdash_mua
Our team of Event Designers works closely with clients to design and produce "one of a kind" events. Celebrate is the perfect location to get married or host an engagement party, birthday party, anniversary or baby shower. Snug Harbor's expansive grounds are an ideal setting for entertaining large groups of corporate clients for summer outings, barbecues, team building activities, concerts and picnics.
Explore all this urban oasis has to offer for your wedding, corporate or social occasion. Celebrate is conveniently located on Staten Island, a quick ferry ride from lower Manhattan as well as a short drive from Brooklyn and Queens. The property has ample parking and is close to several hotels, local museums and galleries. Operated by Relish Catering + Hospitality
718-442-2700 email: events@celebrate-snug.com www.celebrate-snug.com