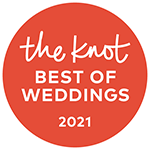 Celebrate at Snug Harbor
Snug Harbor Cultural Center and Botanical Gardens is home to Celebrate, New York City's most exceptional wedding venue. The Center boasts a rich architectural landscape featuring 26 elegant Greek Revival, Beaux -Arts, Italianate and Victorian buildings.
The lush 83 acre campus features an array of impeccably stylized gardens. Stroll through the beauty and the bounty of the Tuscan Garden, Rose Garden, Connie Gretz Secret Garden, White Garden and New York Chinese Scholar's Garden. These spectacular and serene settings are perfect for a ceremony al fresco.
Celebrate at Snug Harbor is a truly unique venue where world-class architecture, ethereal botanical gardens and artisanal cuisine come together to create the picture-perfect setting for your special day.
The White Garden or Chinese Scholar Garden can be used in conjunction with the tented pavilion to create a complete botanical event experience. Accommodating 100-250 guests, April-October.
The Tuscan Garden, modeled after the Villa Gamberaia in Florence, stands out with its magnificently landscaped terraces, formal water elements, topiaries and period plantings. The Tuscan Garden can accommodate up to 250 guests for ceremony, April-October.
With its curved wood ceiling and oversized palladian windows, the historic Great Hall comfortably accommodates 150 - 350 guests for dinner and dancing. This grand indoor space can be used in conjunction with the Tuscan Garden and Gallery for ceremony and cocktails.
Our team of Event Designers works closely with clients to design and produce "one of a kind" events. Celebrate is the perfect location to get married or host an engagement party, birthday party, anniversary or baby shower. Love is love. Celebrate is pleased to celebrate weddings and special occasions for the LGBTQ+ community. Snug Harbor's expansive grounds are an ideal setting for entertaining large groups of corporate clients for summer outings, barbecues, team building activities, concerts and picnics.
Explore all this urban oasis has to offer for your wedding, corporate or social occasion. Celebrate is conveniently located on Staten Island, a quick ferry ride from lower Manhattan as well as a short drive from Brooklyn and Queens. The property has ample parking and is close to several hotels, local museums and galleries.
Operated by Relish Catering + Hospitality
718-442-2700 or 212 228 1672
events@celebrate-snug.com
www.celebrate-snug.com