Vegan Weddings at Celebrate
Over the past few years at Celebrate, we have started to see a new trend where vegan weddings are growing in popularity. Your wedding day is an important day in your life and in our opinion, it is totally worth it when you get to incorporate pieces of your beliefs into your special day. Having a vegan menu on your wedding day shouldn't be difficult to plan at all, that is why Celebrate at Snug Harbor is here to offer a tasteful vegan menu for your big day!
We know that food plays a major role in your wedding day.  We want our couples who abstain from meat and animal product consumption and use to absolutely love what they pick for food options on their menus.  In order to throw an authentic vegan wedding, all aspects must be cruelty-free and not feature any animal products.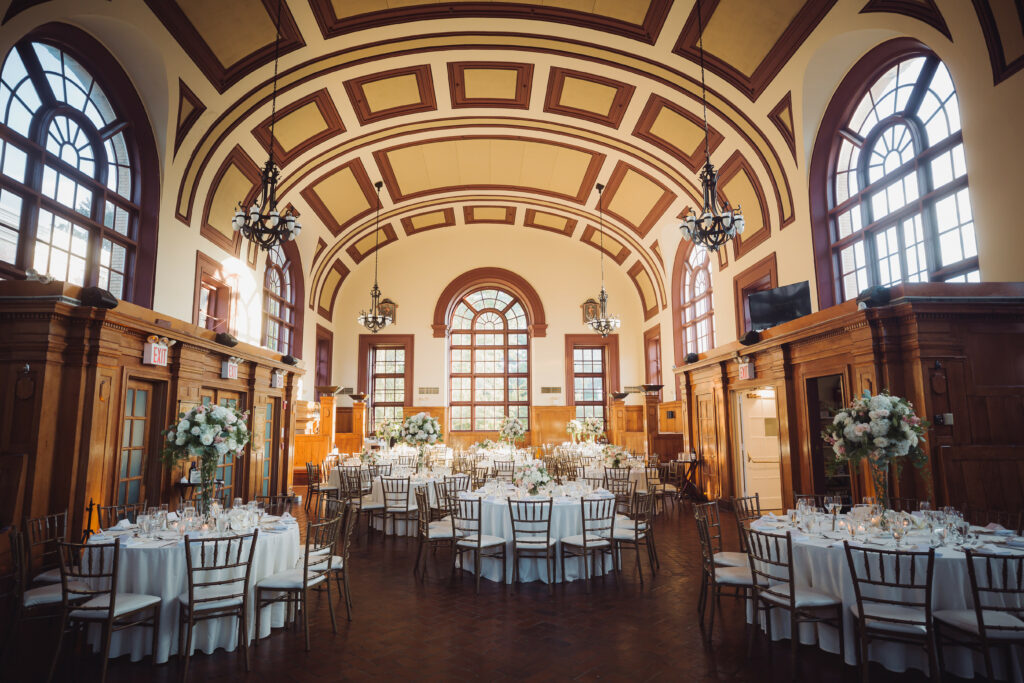 Executive Chef Mark Russell, has come up with some delicious and creative ways to showcase vegan food at weddings.  Our Celebrate couples' guests will be pleasantly surprised to learn how delicious vegan menu options can be! We thought it would be fun to share parts of our vegan wedding menu that is sure to keep everyone's taste buds satisfied.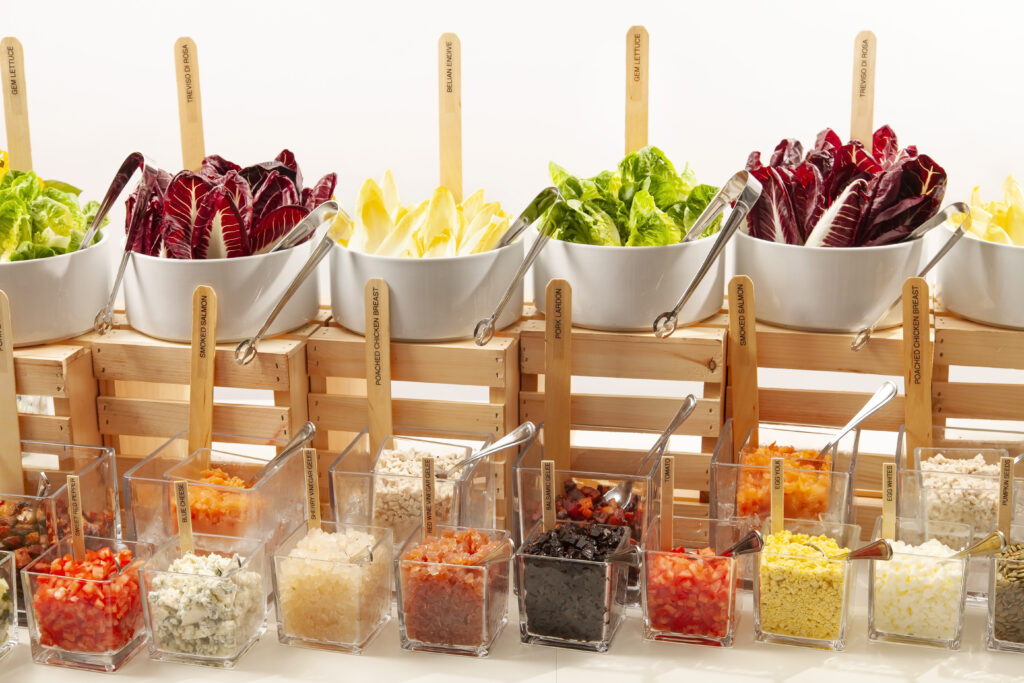 Cocktail hour is one of the most loved aspects of a wedding reception. The music starts as everyone enters the room and starts the mingle. The drinks are poured and hors d'oeuvres are passed – What better way to kick off your vegan wedding with some delicious vegan hors d'oeuvres. A crowd favorite is our passed strawberries with pistachios, lemon vegan cream cheese and balsamic.
Friends, pull up a chair, grab a drink and join us at the Mezze Table. The evening begins with loved ones and good food. This table will feature vegan options such as dips and spreads like beet muhumara, green chickpea hummus, eggplant cherry tomato zaalouk all served with flat breads and crisps, spring greens and vegetable tabouli and so much more. It will for sure have you coming back for seconds!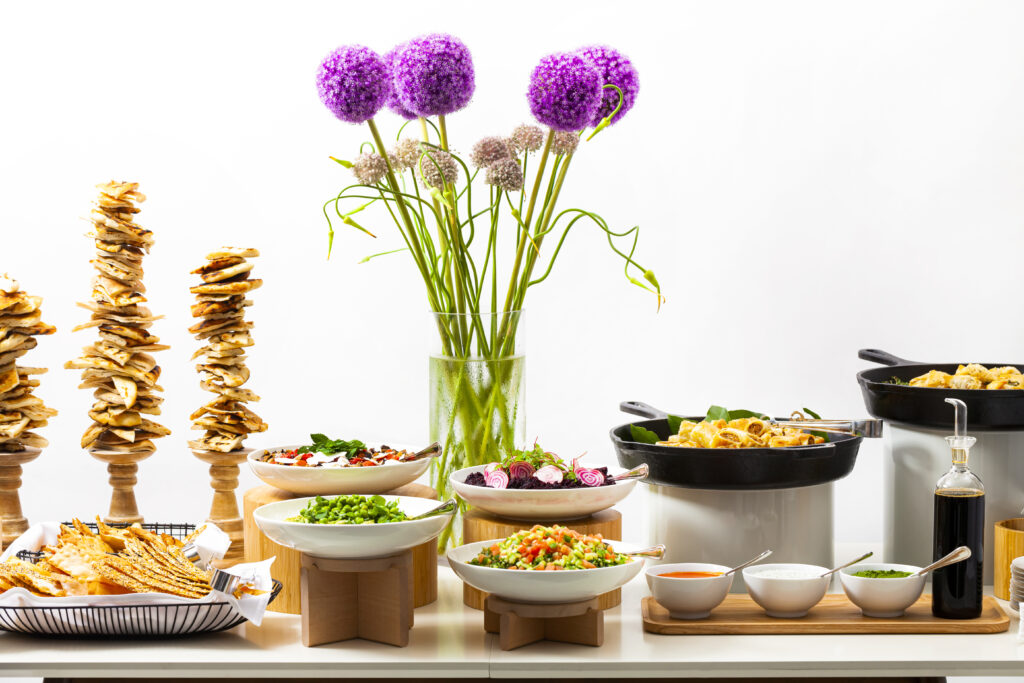 Another popular station is the Vegan-Vegetable Carvery with a commitment to sustainable initiatives, Celebrate offers a chef-manned carving station, based entirely on fresh seasonal vegetables. Everything that makes a traditional carving station inviting and decadent, sans the meat. A variety of rich vegan sauces allows guests to customize our offerings of hearty vegetable "roasts" packed with caramelized flavors and textures.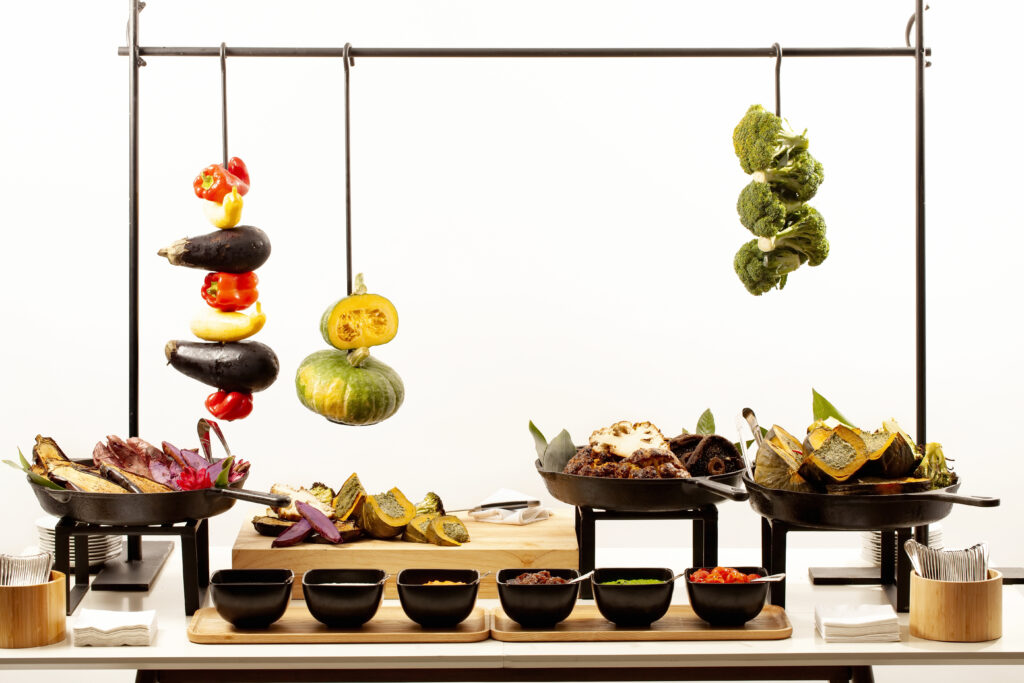 As you take your seat for the wedding reception what could be more welcoming than a plate of pasta? A vegan "alfredo" pasta which consists of penne pasta with tofu cream, mushroom ragout and chives. This one is simply delicious!
A complete vegan menu offers the opportunity to introduce wedding guests to delicious creative menus. The talented chefs at Celebrate are here to help you design an entire menu to suit culture, any dietary preference, or simply create a few special meals to accommodate a guest's specific needs. Contact us today to learn more about planning your wedding or next event at Celebrate!