Couples Tribute: Adina and Clem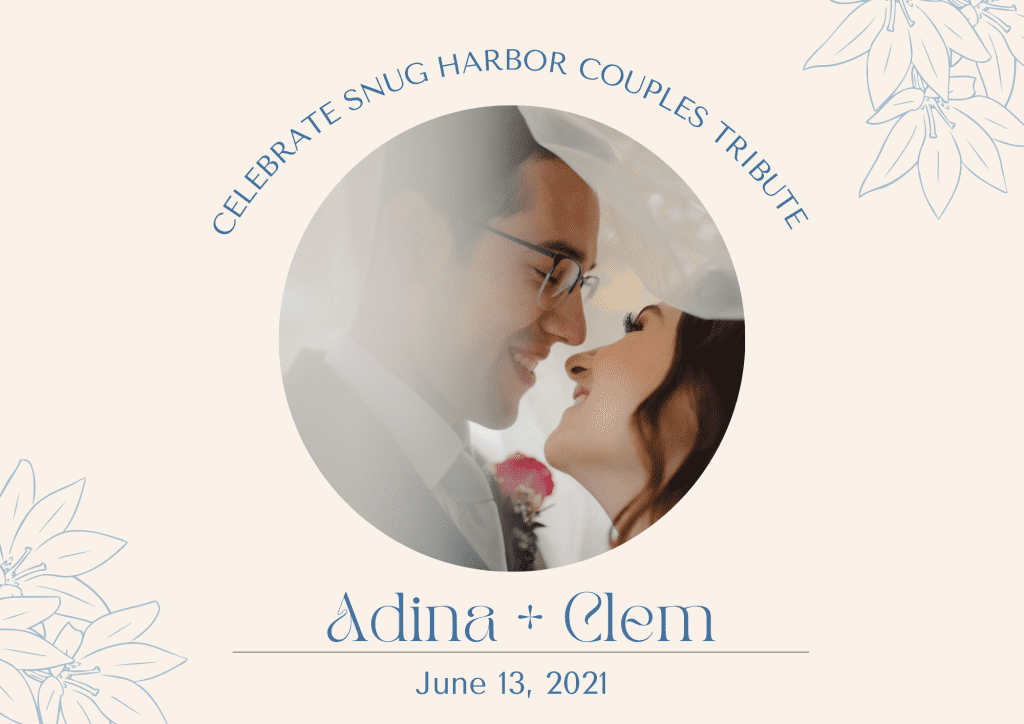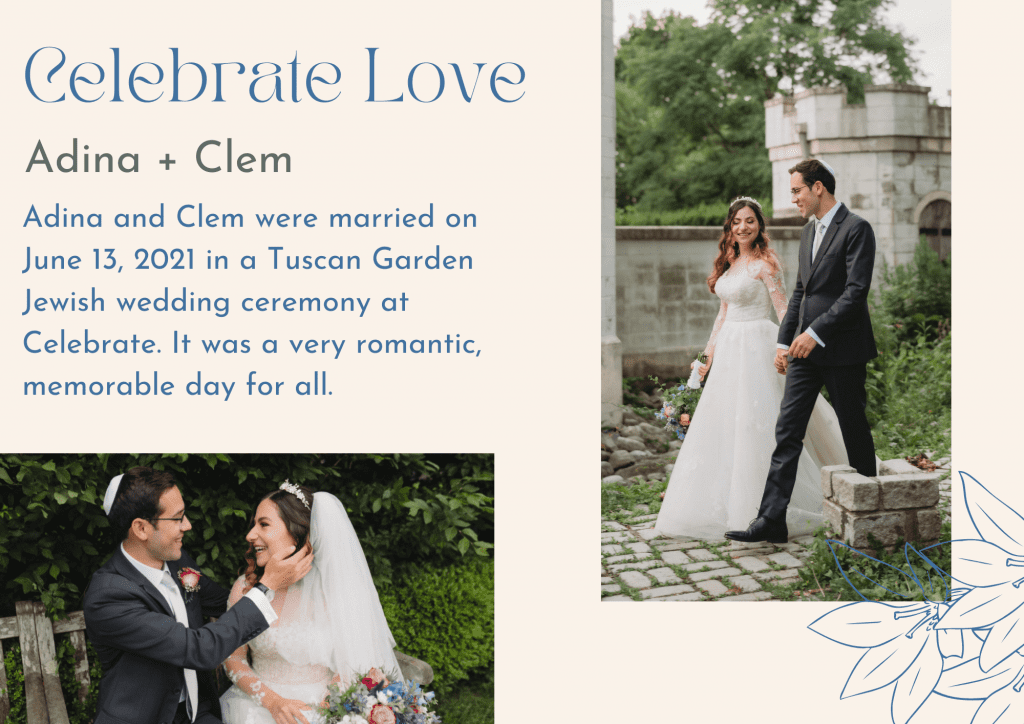 Adina and Clem were married on June 13, 2021 in a Tuscan Garden Jewish wedding ceremony at Celebrate. It was a very romantic, memorable day for all.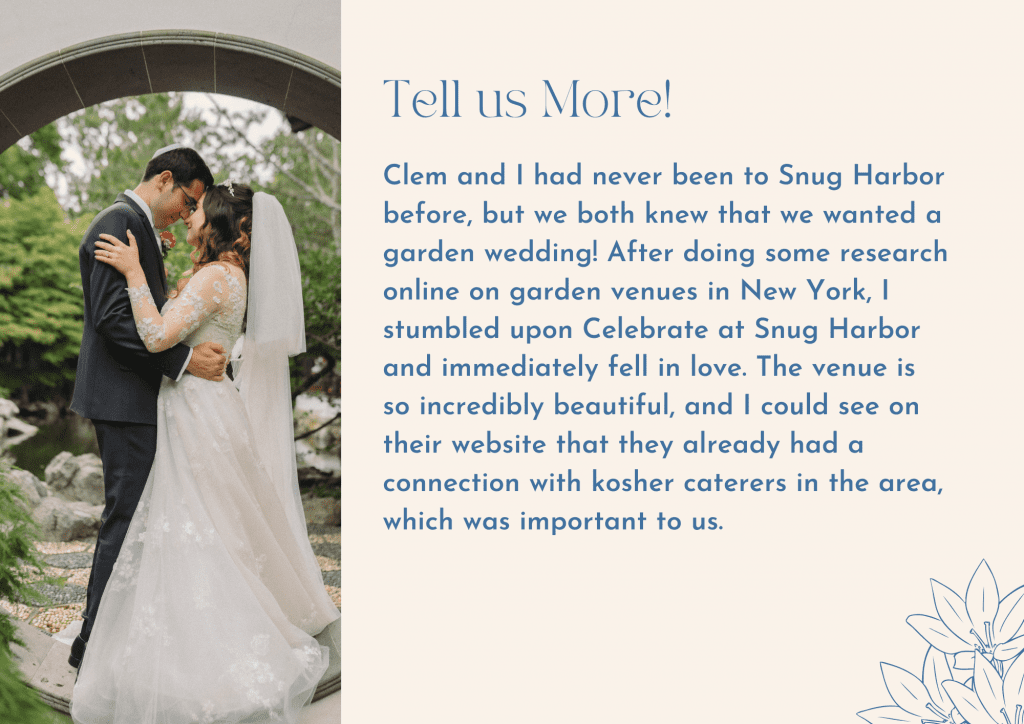 Tell us More!
Clem and I had never been to Snug Harbor before, but we both knew that we wanted a garden wedding! After doing some research online on garden venues in New York, I stumbled upon Celebrate at Snug Harbor and immediately fell in love. The venue is so incredibly beautiful, and I could see on their website that they already had a connection with kosher caterers in the area, which was important to us.
Tell us About Your Day!
We got married on 6/13/2021. The number 613 is meaningful in the Jewish tradition, so we were very excited to be able to get married on such an auspicious day.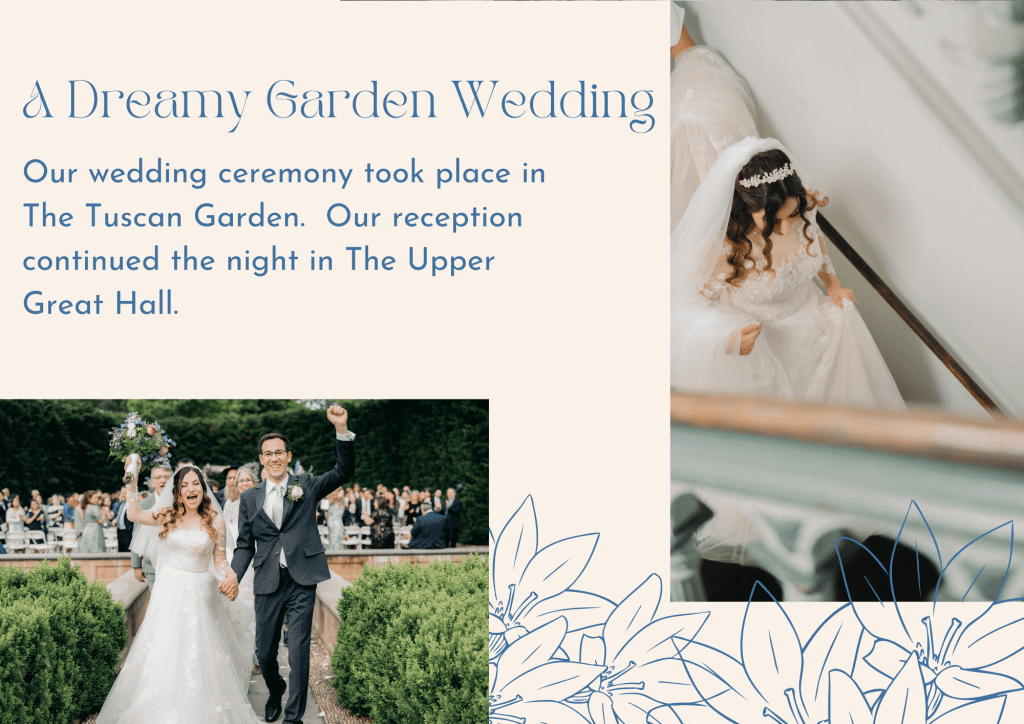 A Dreamy Garden Wedding
Our wedding ceremony took place in The Tuscan Garden. Our reception continued the night in The Upper Great Hall.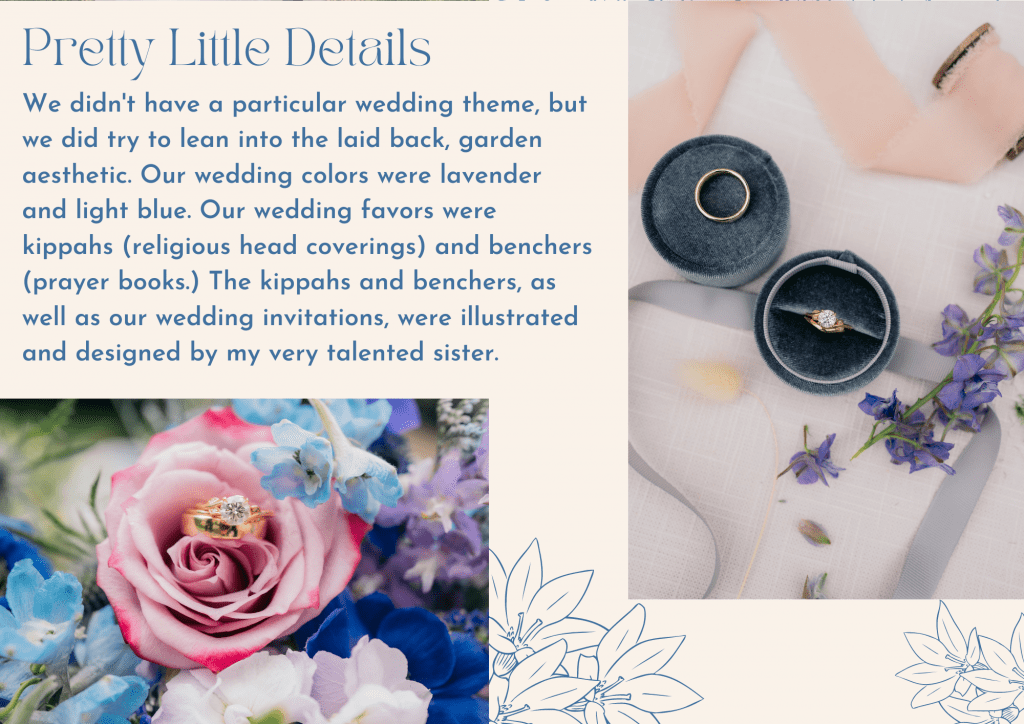 Pretty Little Details
We didn't have a particular wedding theme, but we did try to lean into the laid back, garden aesthetic. Our wedding colors were lavender and light blue. Our wedding favors were kippahs (religious head coverings) and benchers (prayer books.) The kippahs and benchers, as well as our wedding invitations, were illustrated and designed by my very talented sister.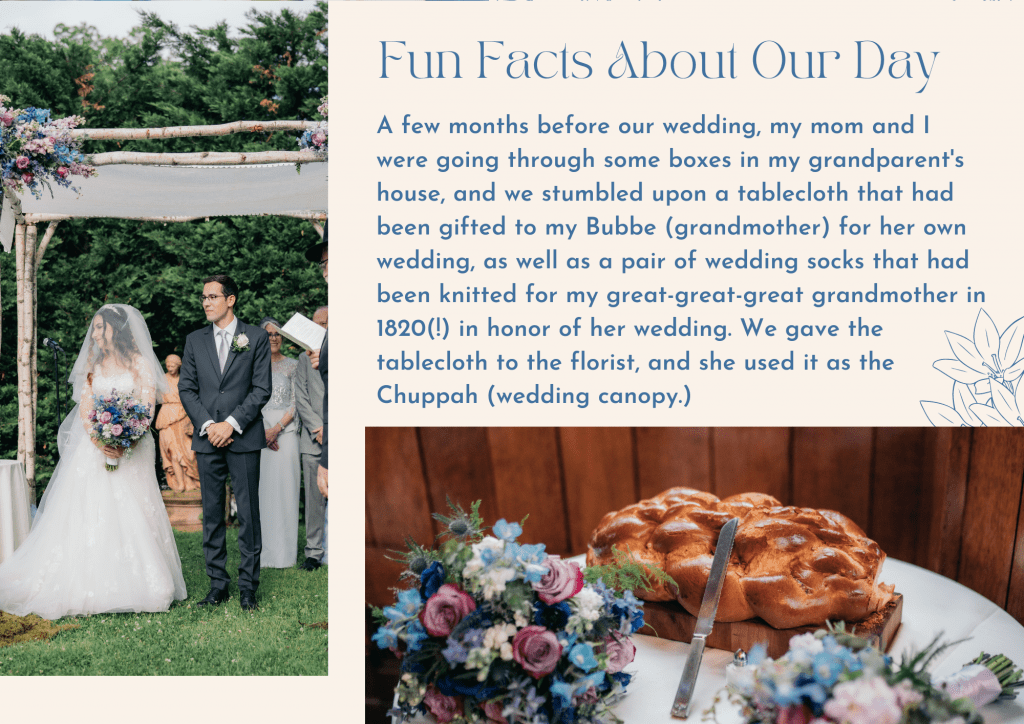 Fun Facts About Our Day
A few months before our wedding, my mom and I were going through some boxes in my grandparent's house, and we stumbled upon a tablecloth that had been gifted to my Bubbe (grandmother) for her own wedding, as well as a pair of wedding socks that had been knitted for my great-great-great grandmother in 1820(!) in honor of her wedding. We gave the tablecloth to the florist, and she used it as the Chuppah (wedding canopy.)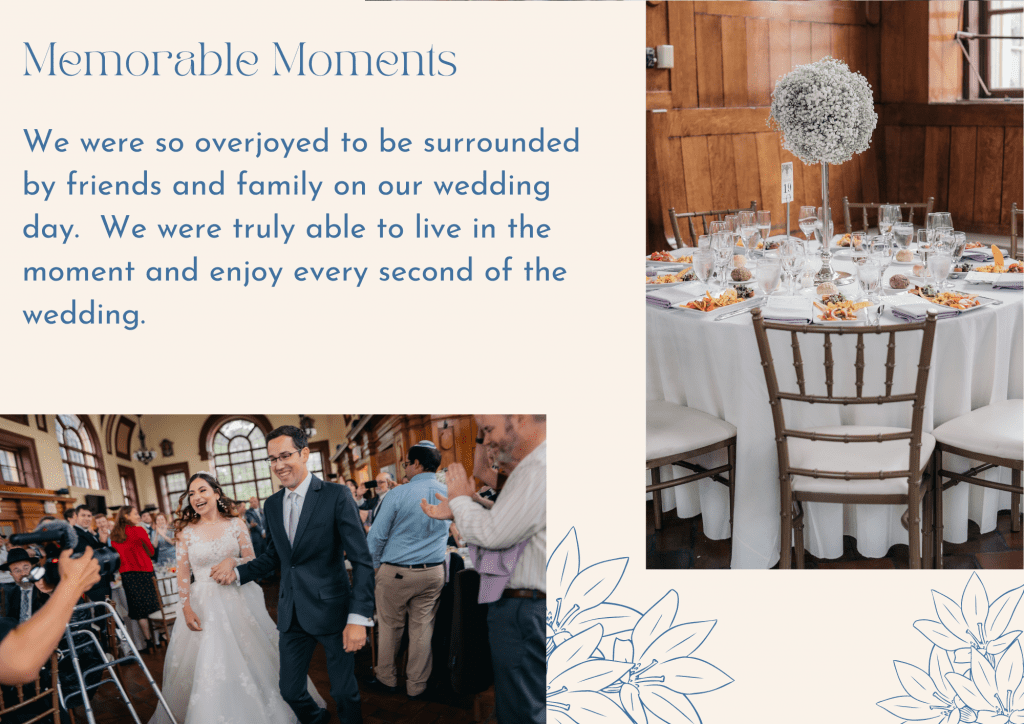 Memorable Moments
We were so overjoyed to be surrounded by friends and family on our wedding day. We were truly able to live in the moment and enjoy every second of the wedding.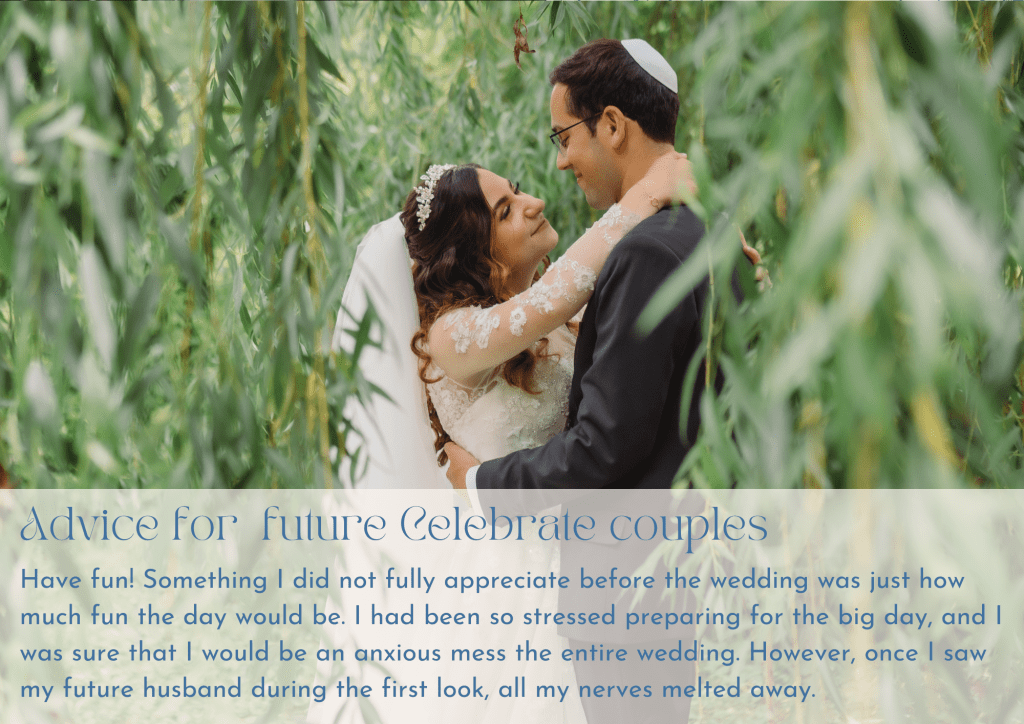 Advice for future Celebrate couples
Have fun! Something I did not fully appreciate before the wedding was just how much fun the day would be. I had been so stressed preparing for the big day, and I was sure that I would be an anxious mess the entire wedding. However, once I saw my future husband during the first look, all my nerves melted away.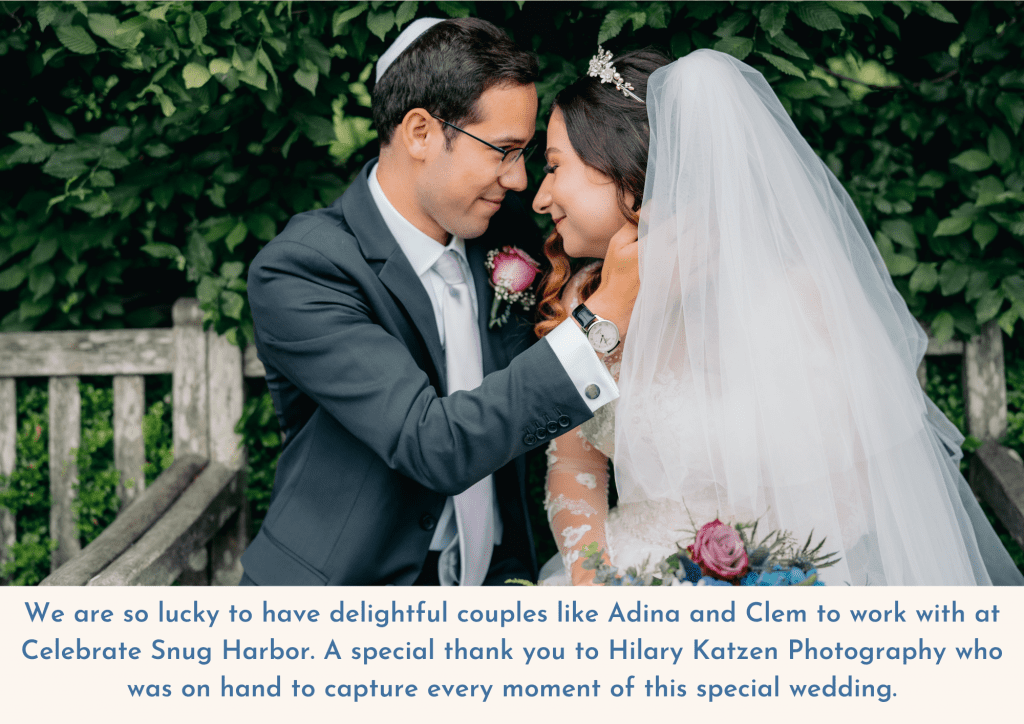 We are so lucky to have delightful couples like Adina and Clem to work with at Celebrate Snug Harbor. A special thank you to Hilary Katzen Photography who was on hand to capture every moment of this special wedding.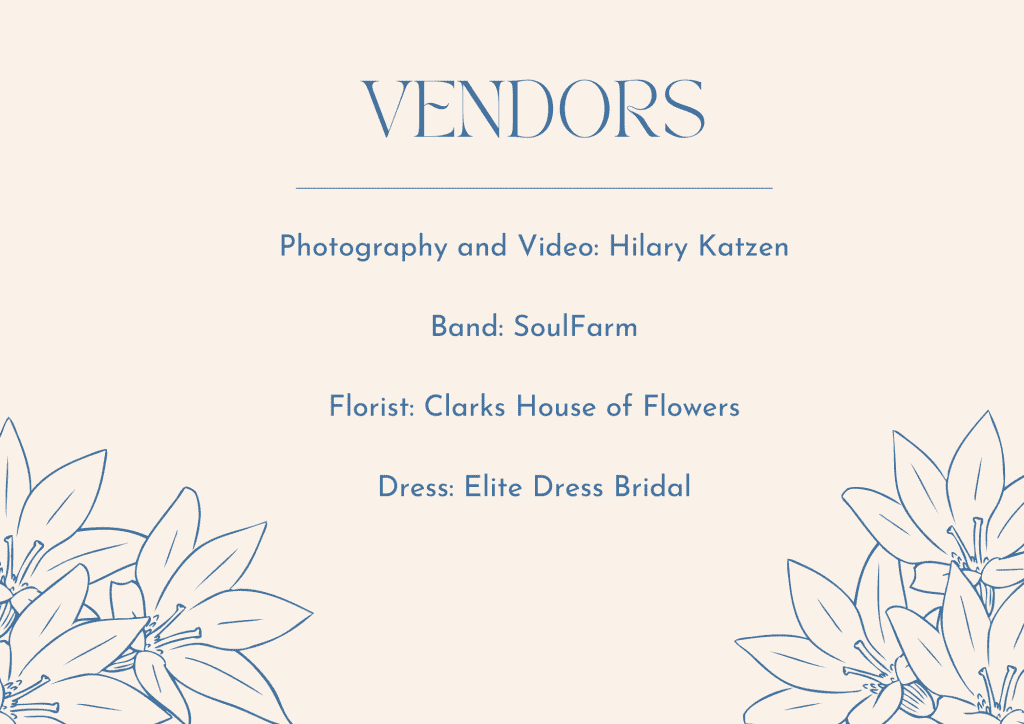 Photography and Video: Hilary Katzen
Band: SoulFarm
Florist: Clarks House of Flowers
Dress: Elite Dress Bridal